Submitting a development finance proposal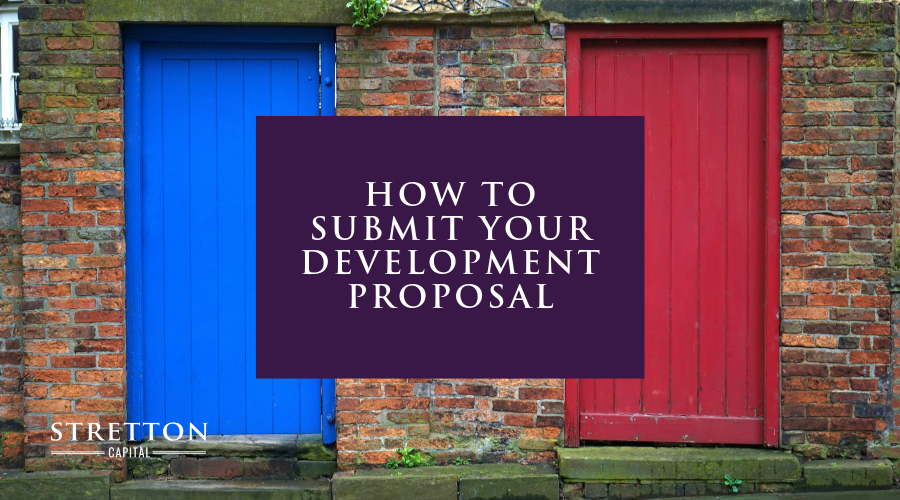 Every lender has a different way of assessing a deal and here at Stretton Capital we are no different.
Development finance in particular is looked at differently than a straightforward bridging deal and the requirements are also different. Here we will explain what we require and just as importantly, what we don't need as part of the initial assessment.
Submitting your initial enquiry
This is where there is a lot of confusion. We understand that brokers and borrowers want to send us as much information as possible but this isn't necessary for the initial consideration of the deal.
For a development finance deal we need
Full security address (location of security site)
Full name of borrower and/or the borrowing entity
Details of borrower experience (a CV/bio would be helpful outlining recently completed developments)
Details of build team (experience, trading accounts of main contractor)
Details of the project (what they are doing, what the security currently is; particularly important for us to know if there is a structure at the security address or if it is just bare land)
Details of the current and/or proposed planning permission
Full cost breakdown (purchase price, estimated valuation, borrower contribution, build costs, individual selling costs, total GDV)
The information requested above is enough for us to assess the deal without burdening us with too much information that is unnecessary at this stage.
What we don't require at initial enquiry stage
We do not require architects drawings or plans
Accounts/P&L/balance sheet for the borrower(s), sole trader or limited company
Bank statements
Obviously as the case progresses we will need a lot more information. However, the initial enquiry stage needs to be simple so that we can get back to the borrower or broker in a timely fashion with a positive or negative response.
It is pointless us asking for a lot of detailed information at this stage if the key tenets of the deal don't stack up. Namely; the borrower, the security or the headline numbers.
Once we are comfortable with the above, we will send you indicative Heads of Terms which will outline the following:
How much we can offer the borrower on day 1 (against the purchase price) and against the proposed development costs.
Our monthly interest rate, arrangement fee and any exit fees.
Loan term
All other fees (if applicable)
Request for further information including ID and proof of address
If it's negative then we will explain our reasons why we can't do the deal as it will help you place it elsewhere or at the very least, allow you and your borrower to restructure the deal (if possible)